Bayou Health Informational Bulletins 
Health Plan Advisories 
Save the Date – Red River Potpourri Save the Date – Red River Potpourri |  8/19-21/16  | Shreveport, LA
Download a pdf version of this edition
---
 AAP Joins March of Dimes and ACOG in Commending Passage of Protecting Our Infants Act
The American Academy of Pediatrics (AAP), American Congress of Obstetricians and Gynecologists (ACOG) and March of Dimes join together in commending today's bipartisan final passage of the AAP-championed Protecting Our Infants Act, which now goes to President Obama for signature into law. The AAP issued the belowpress release following the vote.
Leading Medical, Children's and Women's Health Groups Applaud Passage of
Protecting Our Infants Act of 2015
Bipartisan bill to address neonatal abstinence syndrome heads to president for signature into law
WASHINGTON, DC—The American Academy of Pediatrics (AAP), American Congress of Obstetricians and Gynecologists (ACOG), and the March of Dimes applaud today's passage of the bipartisan Protecting Our Infants Act of 2015 (S.799), which takes much-needed strides to reduce the number of newborns born exposed to drugs, such as opioids, and to improve their care. Since the bill's introduction, all three organizations have worked together leading advocacy efforts for its swift passage, and view today's action as a legislative victory for mothers and newborns across the country as the bill heads to the president for signature into law.
"Every hour, one infant is diagnosed with neonatal abstinence syndrome. There could not be a more critical time to help families affected by substance use and abuse give their babies the healthiest possible start in life. Today, Congress recognized the urgent need to address neonatal abstinence syndrome and responded, working across both sides of the aisle to do what is right for our mothers and newborns," said AAP President Sandra G. Hassink, MD, FAAP.
"The alarming increase in cases of infants born exposed to opioids and other drugs represents a public health crisis," stated March of Dimes President Dr. Jennifer L. Howse. "We must act urgently to reduce the terrible toll of neonatal abstinence syndrome. The legislation passed by Congress today will take important steps toward preventing new cases and treating affected infants, and we urge President Obama to sign this bill into law immediately."
"The American Congress of Obstetricians and Gynecologists applauds Congress for its bipartisan passage of the Protecting Our Infants Act and looks forward to President Obama signing this important piece of legislation into law," said ACOG President, Mark S. DeFrancesco, MD. "Today marks a major step toward addressing opioid use during pregnancy and giving women the care that is right for them. The Protecting Our Infants Act will take action to ensure a healthy outcome for both mother and baby while offering non-punitive, family-centered medical treatment."
Reports show the significant rise of opiate use and abuse has led to an alarming increase in the rate of babies born with neonatal abstinence syndrome (NAS). NAS refers to medical complications associated with drug withdrawal in newborns due to exposure to opioids or other drugs in utero. Between 2000 and 2009, the number of mothers found to be using opioids during pregnancy increased from 1.19 to 5.63 per 1,000 U.S. hospital births. Further, in that same time period, the number of babies born with NAS increased from 1.20 to 3.39 per 1000 hospital births per year. Babies born with NAS often need to be hospitalized for weeks, are difficult to console, and can suffer from seizures and other complications. Currently, there are no standardized guidelines for diagnosis and treatment for these newborns, and there is an urgent need for more research to optimize their health.
Specifically, the Protecting Our Infants Act of 2015, introduced by Reps. Katherine Clark (D- Mass.) and Steve Stivers (R-Ohio) and Senate Majority Leader Mitch McConnell (R-Ky.) and Sen. Bob Casey (D-Pa.), directs the U.S. Department of Health and Human Services to identify and make available recommendations for the prevention and treatment of prenatal opioid use disorders and diagnosis and treatment of NAS, evaluate and coordinate federal efforts to research and respond to NAS, and assist state health agencies with data collection.
The U.S. House of Representatives passed the Protecting Our Infants Act of 2015 (H.R. 1462), which has 99 bipartisan cosponsors, on Sept. 8, 2015. The U.S. Senate passed an almost-identical companion bill (S. 799), which garnered 22 bipartisan cosponsors, on Oct. 22, 2015. The Senate version of the bill, which was approved today by the House, will now head to the president to be signed into law.
---
HealthyChildren.org Update for Health Care Professionals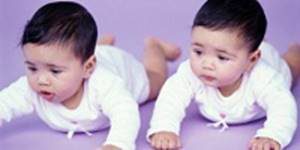 New Motor Delay Tool is Launched on HealthyChildren.org
AAP recently launched Physical Developmental Delays: What to Look For, an interactive online tool, for parents of children ages 5 and younger who are concerned about their child's motor development. Pediatricians who encounter parents with these concerns can refer to the AAP clinical report, Motor Delays: Early Identification and Evaluation, which includes an algorithm to guide developmental surveillance and screening, red flags signaling a need for prompt referral and recommendations, as well as appropriate testing.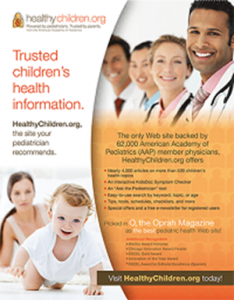 Limited Time Only: HealthyChildren.org Promo Materials Available for Just One Penny!
Stock up on HealthyChildren.org flyers, posters, and post-it notes while pricing is reduced to just one penny, plus shipping and handling. These are great items to hand out to parents to make sure they are visiting the most reliable source of online pediatric health information: HealthyChildren.org, of course!
---
Medicaid/ Bayou Health
Bayou Health Informational Bulletins for Providers
Informational Bulletins cover a variety of topics related to Bayou Health, and all are available here.
– – – – –
Health Plan Advisories
Health Plan Advisories are available at http://new.dhh.louisiana.gov/index.cfm/page/1734
---

1/1 Tiffanny P. Chevalier, MD, FAAP
1/1 Samir Sayem El-Dahr, MD, FAAP
1/1 Theodorus Johannes Mulder, MD, FAAP
1/2 Alejandro Leon, MD, FAAP
1/2 Carlos M. Vides Jr., MD, FAAP
1/3 Natalie McConnell, MD, FAAP
1/3 Gordon Frederick Wadge
1/4 Cara Gradney Fontenot, MD
1/4 Lutifat Abiodun Kashimawo, MD, MB,ChB,FAAP
1/4 Rajesh Kumar Sharma, MD, FAAP
1/5 Primaljit Gill, MD, FAAP
1/5 Kelechi Nneoma Iheagwara, MD, FAAP
1/6 Carissa Lynn Armstrong, MD
1/6 Rufus Lester Hixon III, MD, FAAP
1/6 George E. Lawrence Jr., MD, FAAP
1/8 Vincent Robert Adolph, MD, FAAP
1/8 Sami Labib Bahna, MD, DrPH, FAAP
1/8 Richard Frye, MD
1/8 Yolanda Yu, DO
1/9 Floyd A. Buras Jr., MD, FAAP
1/10 Ruthanne R. Gallagher, MD, FAAP
1/11 Marissa Attis, MD
1/11 Dawn Rube Vick, MD, FAAP
1/11 John Kevin Wilkes
1/13 Suzette Kingston, MD, FAAP
1/15 Susan Jane Berry, MD, FAAP
1/15 Virginia M. Quinones Rivero, MD, FAAP
1/16 Deborah M. Decker, MD, FAAP
1/16 Mary Catherine Gaston, MD
1/16 Emily Husted, MD
1/17 Oluwayemisi Adesida, MD
1/17 Gaurav Nayyar, MBBS
1/17 Oscar Shoenfelt
1/18 Abigail Reyes
1/19 Gabriella Bluett-Mills, MD, FAAP
1/20 Damian Ray Lafitte, MD
1/21 Diane M. deFrance, MD, FAAP
1/21 Dana A. Fakouri, MD, FAAP
1/21 John E. Williams, MD, FAAP
1/22 Justin John Farge, MD
1/22 Radha Garikepati, MD
1/22 Keith M. Perrin, MD, FAAP
1/23 Sarah Labuda, MD, FAAP
1/24 Cynthia Petrus Bimle, MD
1/24 Mary Elizabeth Holzer, MD
1/24 Isaac Aruoture Odudu, MD, FAAP
1/24 Henry M. Peltier, MD, FAAP
1/24 Margaret Ellen Renneisen
1/25 Marlene Marie Broussard, MD, FAAP
1/25 Paul Remedios, MD, FAAP
1/27 Denise Goodfellow Kerut, MD, FAAP
1/27 Julia Ann McDonald, MD, FAAP
1/27 Karen Renee Williams, MD, FAAP
1/28 Steven Nelken Bienvenu, MD, FAAP
1/28 Rebecca Anne Propper, MD
1/28 Kenshata Mignon Watkins, MD
1/29 Cecily Poree-Turner, MD, FAAP
1/31 Bridgett Foreman, MD
---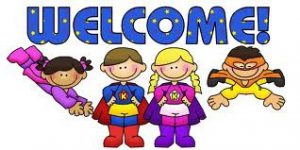 Please join us in welcoming our newest members to the LA Chapter of the American Academy of Pediatrics. There is strength in numbers
and we are so glad you have chosen to add your voice to the more than 700 Louisiana Chapter members who are speaking out on behalf of the
Children of Louisiana and the profession of Pediatrics.  
Kristine Falcon Chimento, MD, FAAP
Allison Cragin, MD, FAAP
Ranada Johnson, MD, FAAP
Anthony Eugene McDavid, MD, FAAP
---
SUDIA Recipe:  Creamy Avocado Hummus
A wacky mash-up of guacamole and hummus, this easy dip gets its creamy light smoothness from the addition of Greek Yogurt. With half the calories of traditional hummus, serve it with raw vegetables or chips for a light, healthy snack.
Ease: Easy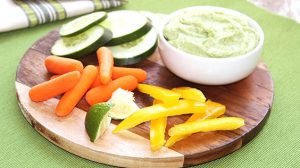 Yield: 40 (2 tablespoon) servings
Preparation time: 10 minutes
Source: Maureen Callahan, MS, RD
Ingredients
1 large avocado, peeled and seeded
1 cup canned chickpeas, rinsed and drained
1 cup nonfat plain Greek yogurt
1/3 cup cilantro leaves
1/4 cup lime juice
1 large jalapeño, seeded, deveined and roughly chopped
1/2 teaspoon sea salt
Directions
Combine all ingredients in a food processor. Blend until smooth (yield: 2 1/2 cups).
For more information and recipes visit www.southeastdairy.org 
---
Red River Potpourri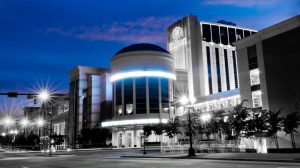 August 19-21, 2016
Shreveport Convention Center
Shreveport, LA
Registration details will be forthcoming
www.womansfoundation.com
Call us for more information 337.988.1816
Red River Potpourri is presented by The Louisiana Chapter of the American Academy of Pediatrics
 For all the latest updates, go to: www.laaap.org/2016potpourri