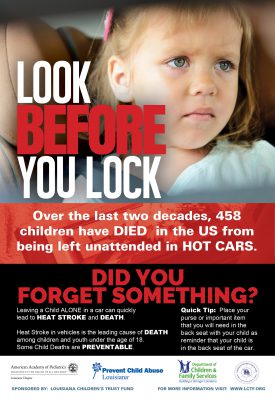 As you may know, every year in the United States, nearly 37 children die from being left unattended in hot vehicles.  Most recently, in Louisiana, three children tragically died due to being left unattended in hot vehicles.
The Louisiana Children's Trust Fund, Department of Children and Family Services, Prevent Child Abuse & several other cross-sector partners have launched a statewide campaign entitled, "Look Before You Lock".  The campaign will be held July 1, 2016 through September 30, 2016.
Please help us spread the word by posting the poster on your website and social media page.  We can also send out packets to you with 11 x 17 and 8 x 10 posters for your distribution.  Feel free to respond and let us know how many your agency may need. Please make your request to Michele.rabalais.dcfs@la.gov and cc: dana.hunter.dcfs@la.gov
Thank you in advance for your generous partnership and assistance in improving child safety in Louisiana. 
For more information contact Dr. Dana R. Hunter, Executive Director- Louisiana Children's Trust Fund. 225-342-4010 Office | Dana.hunter.dcfs@la.gov